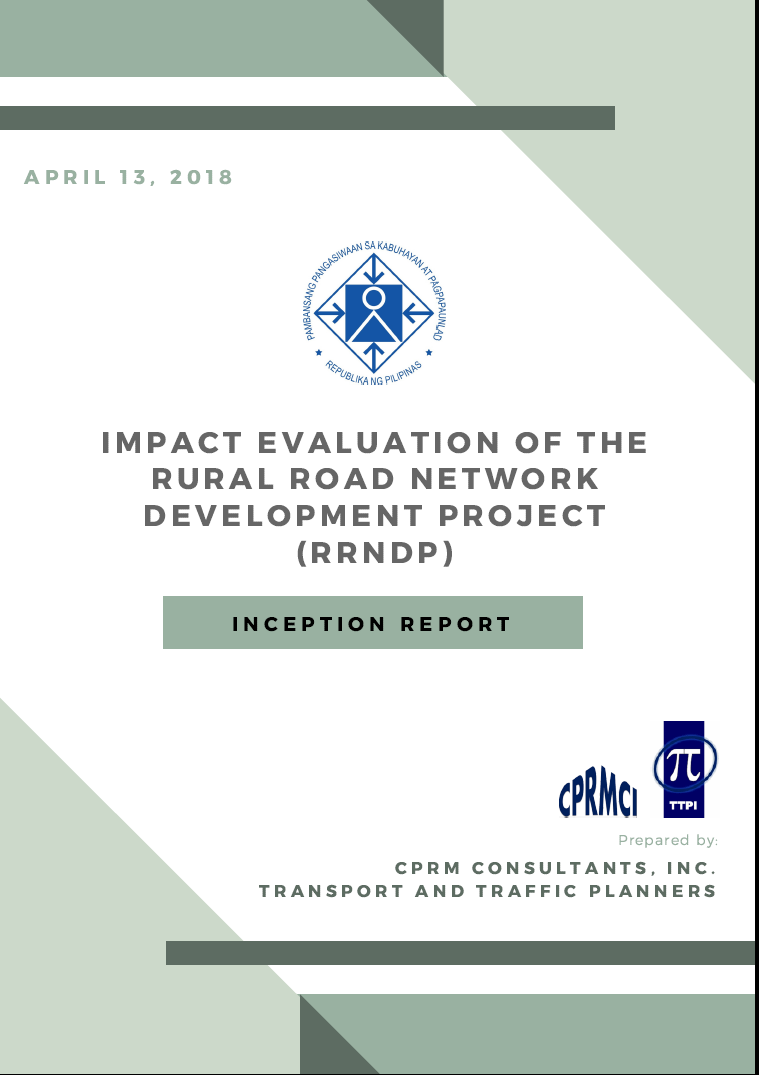 | | |
| --- | --- |
| Title of Study: | Impact Evaluation of the Rural Roads Network Development Project |
| Name of Evaluator(s): | CPRM Consultant Inc. and Transport and Traffic Planners Inc |
| Commissioning Agency: | National Economic and Development Authority |
| Commissioning Office: | Monitoring and Evaluation Staff |
| Type of Evaluator: | Firm |
| Sectors: | Infrastructure Development |
| Evaluation Type: | Summative |
| Date Started: | Jan 2018 |
| Date Completed: | Dec 2019 |
| Evaluation Budget (₱): | 17,142,700 |
| Evaluation Cost (₱): | 16,552,365 |
Description
This Final Impact Evaluation Report presents an impact evaluation of the Rural Network Development Project (RRNDP), a road improvement project covering national secondary roads and related structures. It was implemented over the period 1991 – 2012, in three phases. The Project, financially supported by the Government of Japan (GOJ), built over a thousand km of roads in 26 provinces throughout the country.
The method for impact evaluation is patterned after a World Bank study for similar rural road project in Vietnam (Mu and van de Walle, 2011). The theory of change posits that household living standards will increase, through an increase in farm income as farmers gain better access to input and output markets; as well as easier access to employment opportunities and markets for non-farm enterprises.
The quantitative impact evaluation is accompanied by a process evaluation to give deeper insight on how the project was implemented; how well the project outputs were maintained; and shed light on other study objectives outside the scope of impact evaluation, such as modal shifts; and other before-after comparisons in project areas. These entailed an engineering assessment and a qualitative assessment of project areas in the nine provinces.