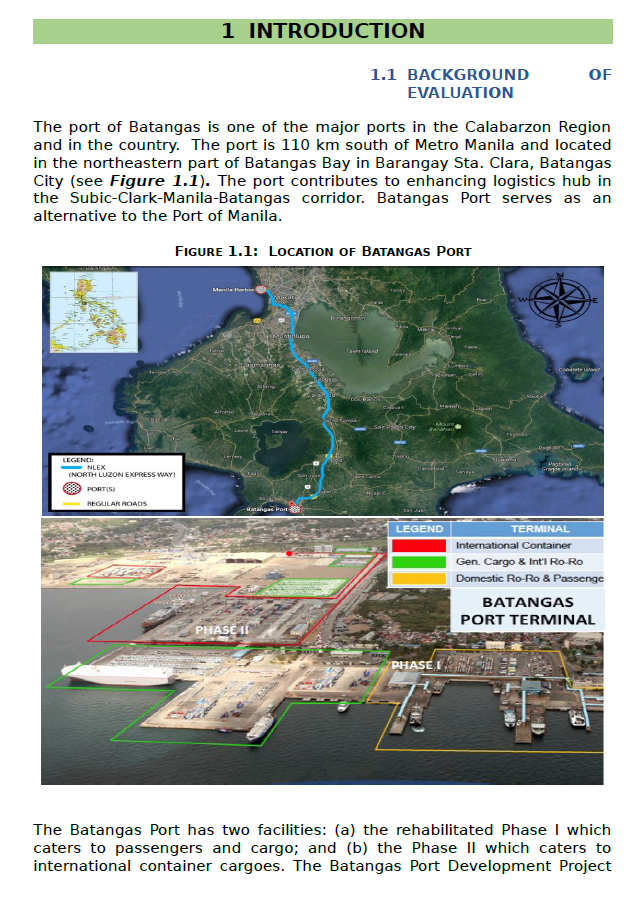 | | |
| --- | --- |
| Title of Study: | Impact Evaluation of the Batangas Port Development Project Phase II |
| Name of Evaluator(s): | Test Consultants, Inc. |
| Commissioning Agency: | National Economic and Development Authority |
| Commissioning Office: | NEDA Regional Office IV-CALABARZON |
| Type of Evaluator: | Firm |
| Sectors: | Infrastructure Development |
| Evaluation Type: | Summative |
| Date Started: | Sep 2017 |
| Date Completed: | Sep 2018 |
| Evaluation Budget (₱): | 4,352,000 |
| Evaluation Cost (₱): | 4,285,120 |
Description
The Port of Batangas is one of the major ports in the Calabarzon Region and the country. The port is 110 kilometers south of Metro Manila and located in the northeastern part of Batangas Bay in Barangay Sta. Clara, Batangas City. The port contributes to enhancing logistics movement of which it is a part of the strategic logistics hub of the Subic-Clark-Manila-Batangas corridor. Batangas Port serves as an alternate to the Port of Manila.
The Batangas Port has two facilities, the rehabilitated Phase I which caters to passengers and cargo and the Phase II, which caters to international container cargoes. The Batangas Port Development Project Phase II (also as known as BCT) was primarily intended to handle the expected excess container cargoes from the Port of Manila with the following completed facilities: i) container berth; ii) domestic berth; iii) boarding bridge at Phase I; iv) terminal buildings; v) flyover; and vi) other items such as cargo handling machinery and total port security system.
The project also included livelihood projects for the affected residents. The project had a total investment cost of US$266 million. It was funded by the Japan Bank for International Cooperation Agency (JICA) and the Government of the Philippines through the Philippine Ports Authority. The JICA conducted an ex-post evaluation study of the project in 2012 and rated the project as unsatisfactory.
The NEDA Region IV-A engaged the services of TCI to conduct an impact evaluation of the completed Batangas Port Development Phase II Project in order to assess the attainment of development goals of the project, establish whether the effects can be attributed to the concerned intervention, and identify the lessons learned that can be applied in future projects.
The purpose of this study is to assess the gains and benefits of the Batangas Port Development Phase II Project in relation to the policy of shifting
container cargoes from the Port of Manila. It also aims to recalculate the Economic Internal Rate of Return (EIRR) of the Batangas Port Phase II
Project.